Lopes Cottage, Belstone
A luxurious boutique Dartmoor holiday cottage in a wildly-romantic setting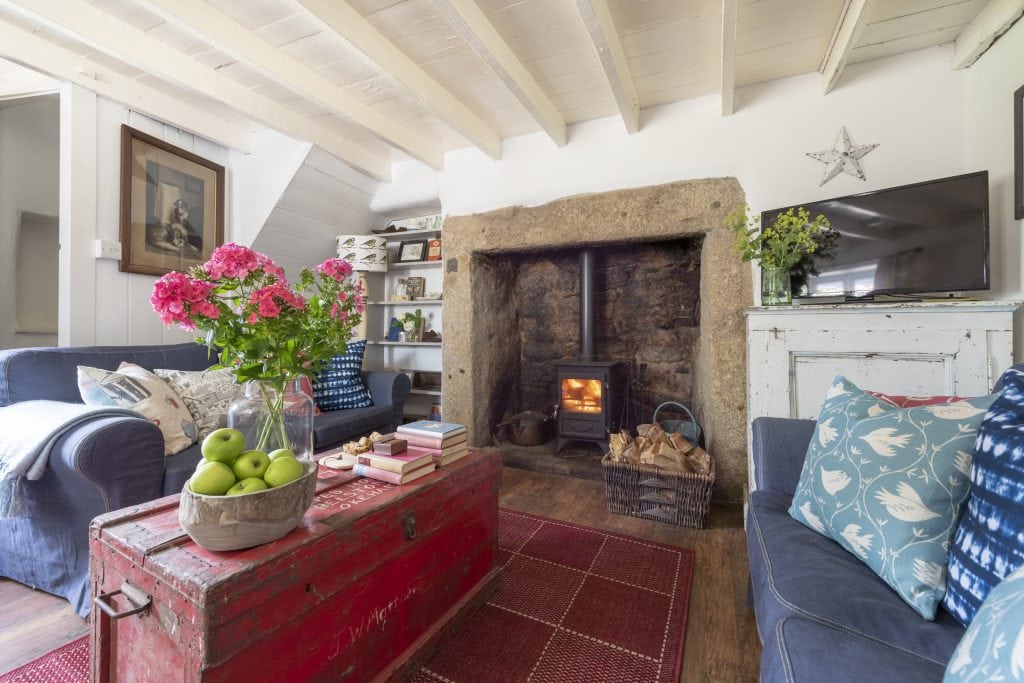 The Holiday Cottage
Nestled within the village of Belstone, on the edge of the open moor, Lopes Cottage will greet you with the atmosphere of cosy calm for which it is renowned. Whitewashed walls of undulating Dartmoor granite envelop its guests, standing firm against all weathers, as they have done for centuries - whilst inside, fresh white linen, comfy sofas and underfloor heating provide those extra touches of luxury.
Ideal for couples, the cottage provides spacious accommodation, with two staircases, and unexpected rooms around every corner. A wide, stone-floored entrance corridor welcomes muddy boots and wet dogs and, to the rear, is a private garden on three levels, with secluded nooks in which to sit.
On arrival, you will find the wood burner ready to light, in the huge inglenook fireplace - and a glass of something in the fridge to celebrate your holiday ...
The Setting
The village of Belstone is inside Dartmoor National Park. As you sit in the living room of your holiday cottage, you may well find yourself face-to-face with the local sheep or Dartmoor ponies, as they wander freely outside your window. Step outside, stroll past the village church and pub, and within 100 yards you can find yourself on the open moor - gazing down the valley and out across the rolling hills of North Devon.
The lane beside the cottage leads up on to the high moor, with open skies and the soft scent of grass and peat, from where you can explore the rocky tors of the Belstone Ridge or look out towards the towering peaks of Yes Tor and High Willhays. Other routes out of the village offer sleepy country lanes and tracks, enclosed by traditional Devon banks, leading down into the Taw Valley and the pretty village of Sticklepath, or out towards the local town of Okehampton.
Availability
Prices start from £528 for a long weekend or midweek break, and £704 for a week.
We are always happy to answer questions, discuss arrangements and to help with receiving food deliveries for your arrival.